Adding more detail..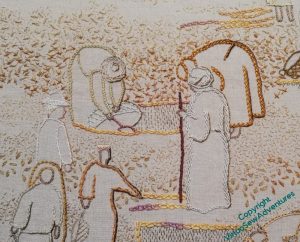 I started by tacking a shadow line along the edge of the Gufti with the staff, decided that it did indeed help, took out the tacking stitches, and started adding very fine stem stitch shadows in single strands of cotton or silk along the right hand sides of the figures.
I used different shades , and different levels of detail – I want the archaeologist in his pith helmet to remain only semi visible. He's clearly consulting with the Gufti, but he's not the focus of the flurry, he's part of the pattern.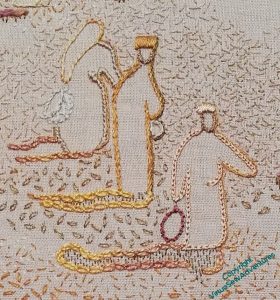 The middle distance figures gave me a little trouble, as the colours seemed a more emphatic, close to, than I remembered.
I'm looking across the room at them now, however, and they have settled back into place, just the slight thickening and darkening at the edge helping to make sense of the pattern that's developing. Even the slightly darker basket, which I had doubts about when I'd stitched it, doesn't unbalance the whole view.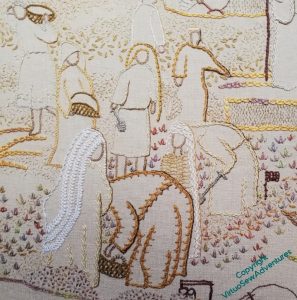 In this bit of foreground, you can see that I have been varying the amount of detail I shadow. Some of these figures may get a little more detail, to bring them forward even more.
I'm even wondering about putting a shadow on the edge of the creamy white veil the foremost figure is wearing.