More thoughts on display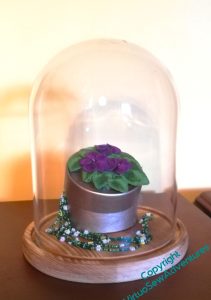 Two elements that sprang into mind very early in my work on the Amarna panels were the Clump of Violets and the bead necklace. The violets are to call to mind Mary's exasperating experience, familiar to any language learner, of having useful vocabulary and structure retained only with the greatest of efforts, while the entirely useless just sticks – in her case, the Arabic for "violets" stuck in her head with no difficulty, whereas the words for "bread", "bath", or "dig" proved recalcitrant. The bead necklace is my reinterpretation of one of hers, owned in childhood and subsequently lost, like the necklaces she helped to excavate.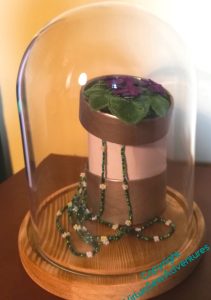 These two pieces link directly to Mary, and not to Egypt itself, and because of that, and because of their colour, they don't sit well with the main panels, and I was left somewhat perplexed about them. Until something brought parlour domes to my mind, and the lights went on!
I thought that maybe if I used the clump of violets to top a golden trinket box, and allowed the necklace to spill out, the two pieces might live together happily as my representation of Mary herself. I found a small round cardboard trinket box and sprayed it gold (a very pale, insipid gold, it turned out, too, not at all what I wanted!), and began to experiment.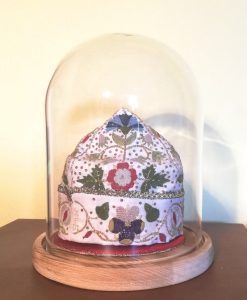 I think the whole thing needs to sit on a cushion within the dome, and the trinket box should be between the tall experiment and the short one in height, and a little narrower to allow the leaves to droop over the edge.
So while I work on achieving that, I have put away both violets and beads, and replaced them in the dome with the Glittering Nightcap.
Which is so happy that it is refusing to give it back, and I will have to buy another parlour dome for Mary's trinket box!