More on the Horse, hereafter known as "Mars"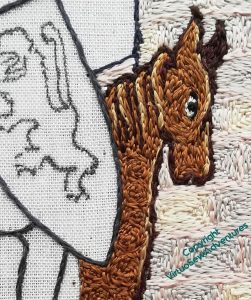 I do wonder whether the mane is quite luxuriant enough. Like the tail, if I decide it needs more, I can probably add some length; if I'd been thinking straighter, I might have given him a short cropped mohican, because I suppose you don't want to give an enemy something to hang on to as you charge them down, which a mane might well.
But then, no-one suggests that warhorses had docked tails, so I may be overthinking this!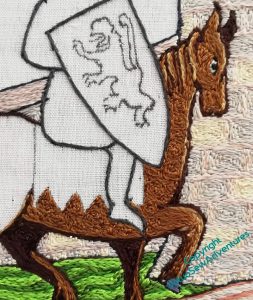 There are all of about six stitches of white silk around the eye (my flat silk from working the Amarna Family Group) and they seem to be just enough to make it suitably staring. This is clearly a Visit of Ceremony, and Mars is determined not to let the side down, so he is focused and crisp in his movements.
I'm going to give him a saddlecloth in William's heraldic colours, so I am leaving all that unstititched for now. And I have made very sure that the darks help him to feel solid and stocky.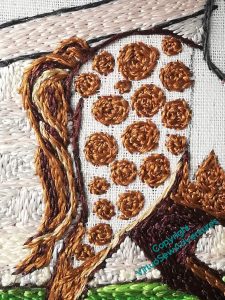 I did say that I would be going around in circles for quite some time!
The stitching of the "dapples" in the same colour as the background give him a slightly thicker coat than a modern race horse, and I am hoping that the alternation of the textures will help knit the piece together, creating a a sort of counterchange: the shield and saddlecloth smooth, like the top of the wall and the path beneath his hooves, while the walls and horse are slightly rough, bouncing the light in different directions.
Incidentally, while I'm working this section, I've been thinking and planning for the "frame", and the ideas keep changing beneath my feet. So if you were wondering where my plans were – the answer is "in flux"!