Hashtags..
The Georgette Heyer ReadAlong on Twitter was one of the few truly delightful offspring of lockdown. Through it, I met a host of funny, feisty, warm, and loving women, intelligent and well-read, but not inclined to take that as a sole criterion for worth. Their take on almost everything is worth reading, they combine charity of heart with a refusal to take any nonsense, and they have improved everything about my experience of Twitter ever since.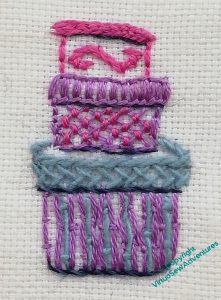 We ended up with an entire sub-language of hashtags and references, and when the readalong came to an end, we embroidered some of them and one of us collaged them together as a gift for the lady who started it all. These are my contribution.
"Hatboxes" appear frequently in adventures, being small and portable containers that someone too young to have luggage might be able to pack with a few necessities. Mine turned into a positive sampler of stitches. The lid of the pink one is Hungarian Braided Chain, there is Trellis Couching, Herringbone Stitch, Burden Stitch, Blanket Stitch, Stem Stitch and Back Stitch.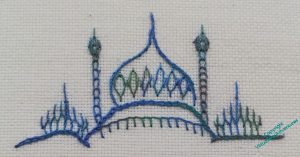 "Fainting In The Pavillion" refers to an incident in one of the books when the heroine, overcome with heat and repugnance, faints in one of the rooms of Brighton Pavilion, greatly embarrassing her host, the Prince Regent (he had it coming, waste no sympathy!). This one includes Cretan Stitch, Open Chain (looking neat and delicate for once), Fly Stitches, Stem, Chain, and Blanket Stitch.
"Dashed Havey-Cavey" refers to suspicious and underhand circumstances, so rather than trying to illustrate it with a picture, I simply chose a dark and moody thread and put on my most pernickety mode of Reverse Chain Stitch.

The whole thing was enormous fun, both to take part in, and to stitch about afterwards!
After which delight, it seems rather unfortunate that the latest video in SlowTV Stitchery, Episode 77, should be a sad one, full of struggle, and as yet not crowned by success..