Manawatu Gorge – finishing the first experiment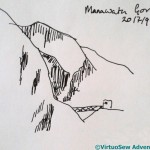 This is such a wild and not-my-comfort-zone sort of experiment that posting the original sketch each time seems sensible. There's a lot of interesting texture hinted at in the sketch, and I don't think layered gauze is going to reveal it, so another version is definitely on the horizon at some point!
In the meantime, and bearing mind my original thought that the cross hatching indicates some combination of rocky outcrops from, and shadows on, snow, this version layered a blue, slightly sparkly gauze repeatedly over itself and some fragments of the black and purple to create the look of the cross hatching.
Looking at it as I write this, with the sketch on view in the top corner, I realise that even with that simple sketch to work from, I've not accurately observed all the details. This is why drawing and sketching are hard: it's not the control of the pen that's difficult, it's the accurate observation of the subject that requires time and practice.
My memory of a rusty-red girder bridge with some sort of lifting engine on one end is really what has kept this sketch in my mind off and on for years, so having noted it needed some land to stand on, of course I wanted to add it in. Since I'm also working on William Marshall, silk was what I had to hand, so iron girders are all in silk!
At this point, I intend to pause. I feel as though some additional stitchery on the rocky bits might help, but equally, maybe I've learnt all I can from this sketch, and the thing to do is undo it all and think more about the canvaswork!