William Marshall – beginning to stitch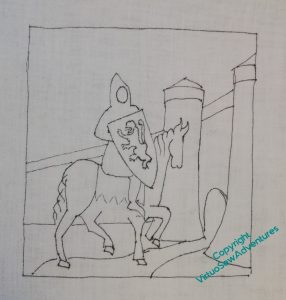 I have a small lightbox now, so I used that to transfer the design. It was a bit of a battle, because the lines showed through so clearly I couldn't be sure I'd got them all.
And I hadn't – spot the non-deliberate mistake!
However, one horse's belly can be added freehand. I haven't put in the lines for the reins, either, because I'm anticipating putting them over the top of the stitching below, and that layer of stitching would cover the design lines anyway.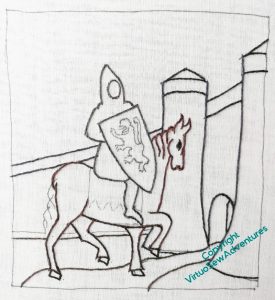 When I began the outline, I used the darkest thread I have, "Ebony", and it looked a bit monolithic. After a couple of comments from Tanya Bentham, I unpicked it all, took the opportunity to restretch the fabric, which had sagged, and reinstated the outlines with some variation – navy blue for the building, brown for the horse, and dark grey for the armour. They are all very dark colours, so there's only a slight difference, but there is a difference, and already the design looks livelier.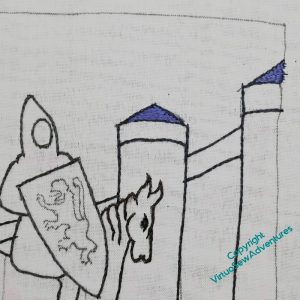 So, once I had the outlining in, I started with the conical slate roofs on the gatehouse turrets.
At this point, I should admit that those conical roofs are not remotely historical. The seventeenth century engraving that gave me the view of the gatehouse I liked the most didn't have conical roofs, and I think I can be pretty certain that in William's time those turrets probably had a man-at-arms on patrol, and no roof.
All that said, I'm not doing an entirely historical piece. I'm telling different stories here, and I want a slightly fairytale/mythological quality to the image. I think the conical roofs help with that.