Manawatu Gorge Experiments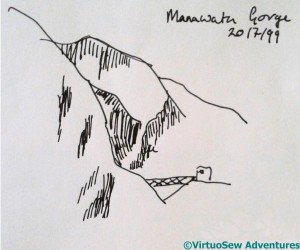 As you see, this sketch is from a long time ago. It was probably done in about ten minutes, in a pause on the road out of Palmerston North.
I found it a little while ago, and thought it would be interesting to see whether I could produce something pleasing in stitched form, using this as the basis. In particular, since it's so long ago, and I couldn't for the life of me find any other source material, this is all I have.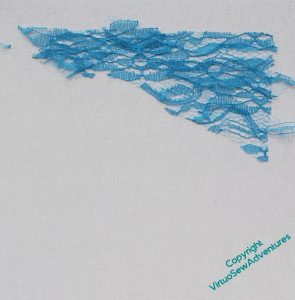 My first idea was to play with layered laces and gauzes, purples and blues because we were there in winter, and there was a lot of snow, bright blue skies and wonderful coloured shadows. There were some limitations in the laces and gauzes I could get hold of, so some of the adventure will be in making this work!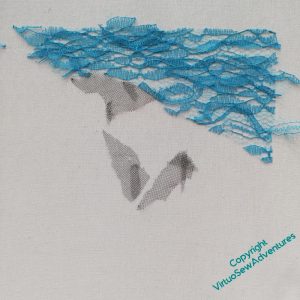 I haven't drawn anything on the fabric, and I am cutting my laces and gauzes more or less freehand against the sketch. Compared with the painstaking stitching on William Marshall, the pieces are almost tacked into place, and there isn't at all the same sense of quiet productivity.
I'm also contemplating a canvaswork, and more abstract, version of Manawatu Gorge, but just while I was writing this post, I came up with an idea for another layered gauze version. So I have more experiments to make!
In other news, Episode 76 of Slow TV Stitchery is now live: In which the Hunting Cat piece is mounted, and we discuss feature creep, tapestries as woven wallpaper with acoustic properties, and the depiction of layers of recollection.