Finally starting the Faience Necklace
When, after my holiday with the Hounds, I came back to the Faience Necklace designs I'd created with my painted cutouts, I found that the version I'd liked then no longer appealed. Instead, it was the various spirals that sprang out at me, so I began to play with them a little more, tweaking and varying the design.
I must remember paper cutouts as a future designing method. It makes it much easier to play with a lot of variants in a relatively short space of time!

Then I had to decide on a fabric. No, I hadn't ironed the silk on the right. This was very much an improvisation! From left to right – a quilting cotton I used in "Loading The Felucca", a leftover of the silk I used for the "Head of Ankhsenpaaten", and a silk in a shade very similar to that used for the "Colossus of Akhenaten". In the end I decided that the sandy print on the cotton would help to evoke that sand in which they were digging, and framed up. I've put a calico backing in in the frame, and attached the cotton over the top.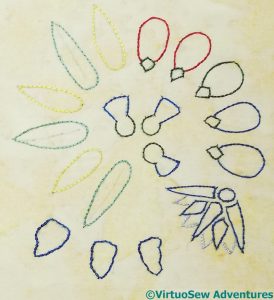 Since it's winter, I've been working under my craft light, and it does rather wash out colours. I'm using Japanese flat silk (not sure why, it just seemed to be what I wanted to do), and I've started by hand-twisting some fine thread and outlining each element in reverse chain stitch.
This does two things – it covers the design transfer lines and it allows me to think about how I'm going to tackle it. Originally I was going to work each element in satin stitch, to echo the high gloss of the faience, but now I'm beginning to think more and more of using stitch to echo the natural elements the faience depicts. Remember what I said, when I finished the Hounds, about returning to my first love, the effects of stitch and thread?