Tag:
The Excavation
You may remember that I was a bit concerned about ensuring that the View of the Excavation properly balances the Map. When I got the Map out again it was much more emphatic than I had remembered.
Eeek!
Then came a suggestion that if I gave it a title – at the bottom, rather than the top – it would add visual weight, and the presence of lettering on both would enhance the sense of a conversation between the pieces. I liked that idea, so I started making plans.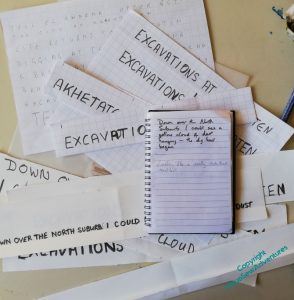 I started with a single large title, but the Map has title and subtitle, so I thought, maybe what I need is title and surtitle. Furthermore, I thought, the surtitle should be in Mary's words. I'm sure she would approve of my foregrounding of the artifacts and the Egyptians, both ancient and modern, but had she not written so enchanting a book, I would have missed out on years of delightful adventures in embroidery. So, that gave me a perfect excuse to curl up with the book, notebook by my side, which enabled me to feel I was making progress while I was fading in and out of focus with Covid.
Since I'm not at ease with lettering, once I had chosen – or at least half-chosen – my text, it required a whole lot of squared paper and letter counting, and a depressingly uncolourful desk for a while, as I tried to bring it all together. This is the Very Unglamorous side of planning and creating. I'm getting better at it as I learn and invent more techniques to help myself pull my ideas together, but it is still very much the part of inspiration that isn't inspiring!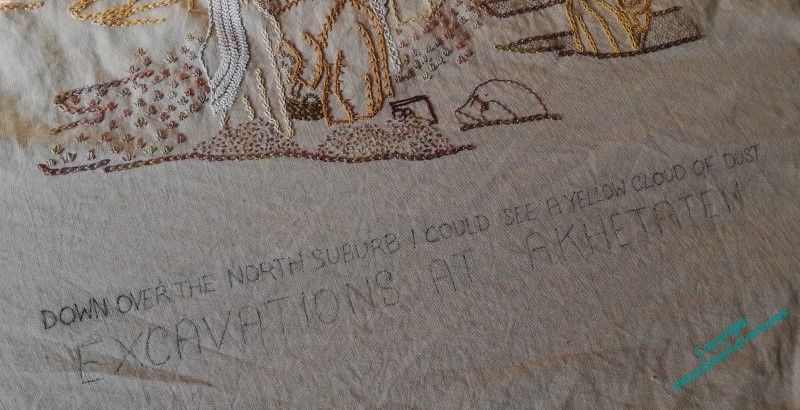 Finally, I chose my extract: "Down over the North Suburb I could see a yellow cloud of dust", in the smaller capitals of the subtitle, and "Excavations at Akhetaten" in the larger capitals, and transferred it by prick-and-pounce. Progress!