Tag:
The Three Wise Hounds
The next task was to work the outlines and the ground.
Each hound is outlined in a contrasting colour, as is each leaf shape.
The outline colour is also used for the little details – mouth, eyes, ears, and at the point at which I took this photo, I'd stitched all the ground (in twisted chain, which I don't think is at all historically accurate, but it was fun!) but not yet outlined the tree trunks.
This photo gives a sense of the effect of the chocolate brown outlines around the green trunks, and affords you a nice close up of the leash on the front hound, worked in cable chain stitch, very small and neat. This is another one where I doubt the historical accuracy, but I was so pleased to find myself thinking up ideas like that I was in no mood to spoil the fun.
I don't usually go in for such overheated ideas as New Year Resolutions, working on the principle that if I want to change something, I don't hang around waiting for the new year to do so. However, stitching the hounds has given me something a bit like one – I need to go back to my first love, to the effects of stitch and thread, and the use of them to denote the textures or the ideas I want to convey. Let's see how that pans out!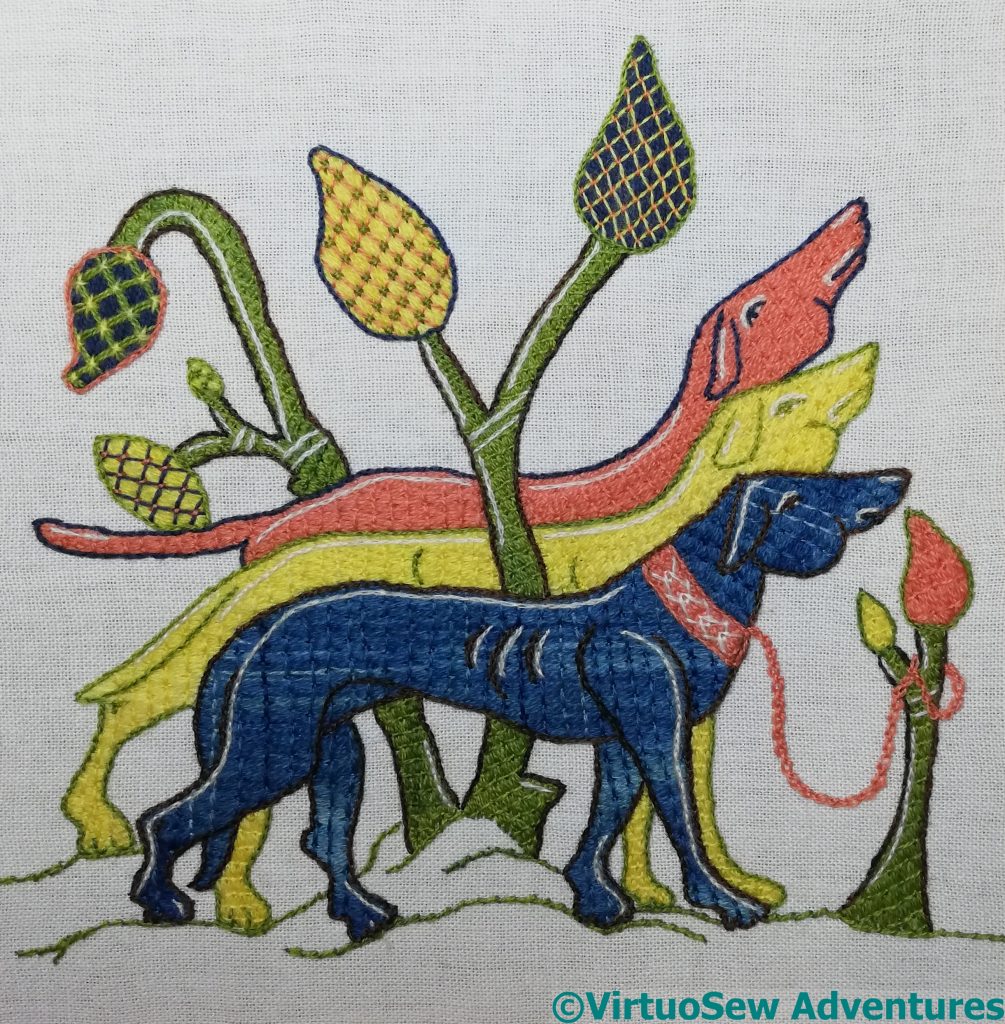 I give you The Three Wise Hounds, design by Tanya Bentham, stitched by me. I didn't quite finished them by Twelfth Night, but since Epiphanytide lasts until Candlemas, on the second of February, I think I can get away with it!
One of the delights of Laid and Couched work is the slight sense of a return to childhood, but with added skills, as it were. The first layer consists of the threads laid and couched (hence the name), and is rather like "colouring in": it produces a layer of flat colour, which will be tweaked and detailed later.
Or in this case, not quite flat colour. The thread Tanya includes is wool that she has dyed herself using natural dyes, and there are unevennesses in the colour that only adds to the charm. As you can see from the two large blue leaf-shapes. I was a bit over-determined to pack in the stitches on the frontmost hound and didn't have thread leftover for the leaves. This being a holiday project, I went rootling in my stash for an indigo wool, and they only one I have is both much darker, and a different structure. But that will matter less when the details are added, so onwards!
Each leaf-shape used the other colours in a different way – as grid, as outline, as couching stitch. The outlines are in split stitch, and each of the grids is couched slightly differently, with a horizontal stitch, a vertical stitch, and upright cross or a diagonal cross.
In addition, I experimented with grid spacing for the blue one shown here. I like this variation, even if it does produce a rather loud plaid effect!
I was quite glad to find the variations slipping in. They might be a sign that I'm recovering from Akhenaten!
Finishing Akhenaten this year has left me rather wiped out. It's not helped by the fact that he needs to be got off the frame and mounted somehow and that is proving Not Entirely Trivial, as The Australian would say, so I've been getting a 1000-watt glare every time I enter the room.
So I thought I would tackle something smaller and friendlier over the holidays, something that would help me gather my thoughts, and give me a change of scale and emphasis. Tanya's gorgeous laid and couched work hounds seemed just the thing. I lost my heart to them months ago, when Tanya first showed them, but Akhenaten was such a dog-in-the-manger that I didn't buy a kit.
However, by the time I went to Harrogate, he was finished, so I decided he didn't have a vote any more, and indulged myself. After metal threads and silk, wool is a lovely change, and the medieval habit of using the direction for the lower layer that makes for the longest stitch on the surface means that each section is slightly different, and stops me worrying about what I'm trying to represent. Which is also a lovely change.
I've decided that they are called Caspar, Melchior, and Balthazar, in honour of the season in which I am stitching them.