Tag:
inspired by Clarice Cliff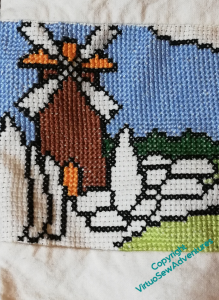 There's a reason I don't do much counted cross stitch these days!
It's repetitious, and samey, and it doesn't offer the chance to play with texture and pattern that I get in other techniques.
Oh, wait, that's three reasons.
In this case, add a fourth – working on aida which is already set into a bag, and a bag, what's more, that is complete, and since the bottom of the bag is a fold and not a seam, I can't even unpick it to make it a bit easier to work. This bag has been fighting back with every stitch, and reminding me why I laid it aside.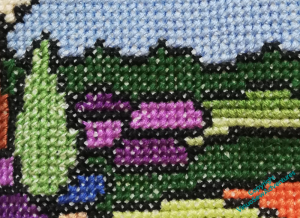 However, it wouldn't be me, if I didn't find a way to demonstrate a little bit of variation… I've used one of the variegated threads in two ways, once with the two strands in the same orientation and each cross stitched individually, and the other with the two strands in opposite orientations and each row stitched out-&-back.
And finally, after what felt like weeks of doing nothing else but this (which isn't even remotely true, let me reassure you!), I've got the bag finished. All of the aida is covered, even the white clouds. But there are no loose threads on the back, and if I have doubts about some details, I'm not about to undo them now. It's taken nearly thirty years to get this far!
On to happier things: Episode 34 of #SlowTVStitchery is now live! In which the final corner is finished, and inklings of new ideas arise…