Cushion For The Coiled Pot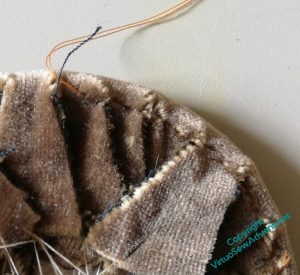 I clipped the edges of the cushion for the coiled pot, and laced the tabs together. That was a bit less bulky than before, but still clunky and rather unstable.
<thinks hard> I wonder whether this will work…?
I stitched (that curved needle again!) close to the edge of the card mount, using a strong, doubled, cotton thread. Fortunately I'd backed the card with some heavy pelmet vilene, which meant that some stitches went into that as well as the velvet.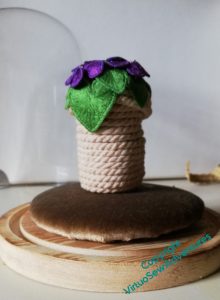 Then, with great trepidation, I cut off the first tab. And then the one it had been attached to.
Ooh, the whole thing didn't disintegrate!
So I carried on , and it still didn't disintegrate (although velvet is a very messy fabric to cut!). I tried it in place – much better, stable, lower, neater. But yes, still shedding fragments of velvet. That's easy to fix – a couple of layers of pva glue on the underneath (me, reaching for glue? who am I, all of a sudden?!), and there's no more shedding.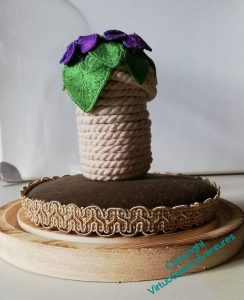 However, I do think it looks a little unfinished.
So, trimmed with a bit of furniture braid, which makes a neat little edge, slightly camouflaging what I've done and how.
If the daisy beads escape, it might help to keep them safe, as well.