Difficulties With The Staff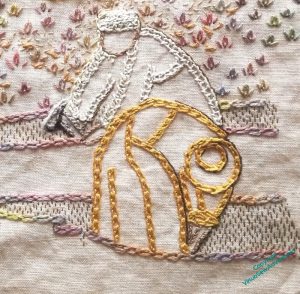 I've been a bit bothered about this pair of workmen ever since I finished them. The pale stone coloured thead is a bit too close to the background colour, and the squarish stitch looks too spiky, too contorted, and very uncomfortable.
What's more, no matter what highlight and shadow I have added, I've not liked it more. So while I've been working on sunlight and shadows, I've been thinking about it.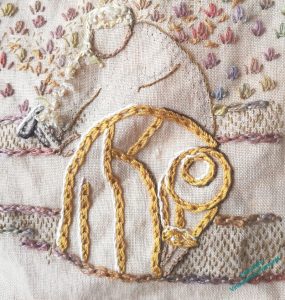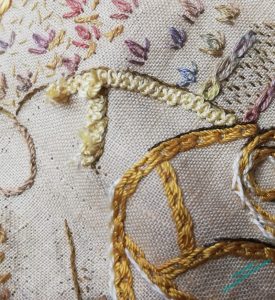 Out it has come, and good riddance!
However…
With what should it be replaced? Clearly not Braid Stitch/Cable Plait Stitch (depending on which dictionary you have beside you!) in pale yellow. Only about half of the workman was reinstated before being swiftly removed.
Well, the decision was swift – the action, rather less so!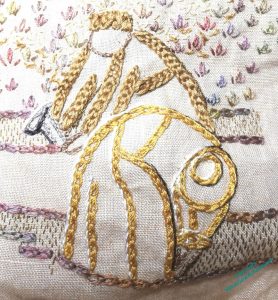 Fortunately all that playing and wrestling with it brought something else to my mind.
Hungarian Braided Chain is an old favourite, and I had been dismissing it because I'd already used it, but in one of the finer threads. Here in undivided stranded cotton, it has enough authority to back up the Shell Chain of the workman in front, and the slightly darker shade of gold helps too.
I think I'm happier now…