Taking an idea from the past
Years and years ago, I bought a white cotton shirt and a long cotton petticoat at a vide-grenier in the Gers, where we were visiting a friend who was restoring an old farmhouse about a hundred yards from the route of the "Camino" to Compostela to run as a pilgrim hostel. I don't wear either of them much, the petticoat being a little long, and the shirt a bit short in the arm, but I do occasionally just look at them to delight in the work that was put into them.
There is machine stitching on them – they're not as old as all that! – but there is a lot of hand work too.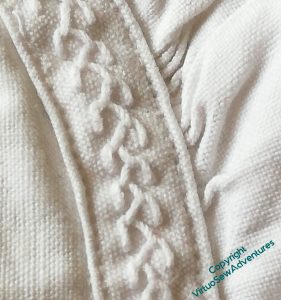 The careful reinforcement between the ruffle and the edge of the garment is a case in point, with a single length of neat feather stitches providing just the variation in texture it needs to stand out, subtly, but definitely. From a distance, it looks almost like a braid, but instead of being bought and applied, it was something the maker could do by themselves.
The ruffle itself is a super-simple version of broderie anglaise, a single eyelet within a pointed edge, hand-finished.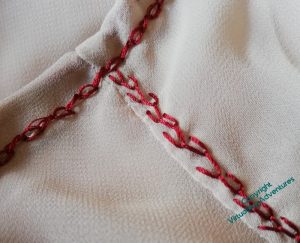 Well, now…
I don't always do epic garments like the Jacket of Many Stitches or the Coat of Many Flowers, but sometimes I do decide that a garment needs a little bit of lift.
Expect to see rows of feather stitch popping up on assorted garments for the next several years!