Footstool finished and set up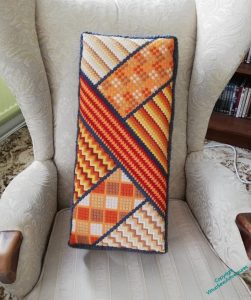 There was something of a pause once I'd finished the cavaswork and we had removed the old cover from the little footstool. We reinstated all the padding (leaving my Grandad's old pyjamas just where Grandmama had left them!) and stapled the cavaswork over the top.
However, that left a border of bare canvas, which was definitely not what I wanted on show, so there was some thought expended. There wasn't enough of the assorted tapestry wools left over to make a border, and this was in progress during one of our lockdowns, so I couldn't go frolicking off to a haberdashery to hunt for a braid. Very well, we would have to find a way of ensuring that our border matched, while trusting someone else to pick the material.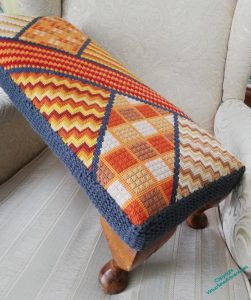 Fortunately, the threads I used were most of them current colours, and in particular the grey is a familiar Anchor colour. So it occurred to me that if I could find a shop that sold both embroidery supplies and knitting supplies, we could ask for a knitting wool to match the grey thread, and crochet a border.
That would have the advantage that we could be sure it would be wide enough to do the job, and in any case it could be slightly stretched to fit. I do like it when absolute millimetre precision isn't necessary. This was a stash-busting, domestic area-improving project, not a major epic (although, you know, subject to my usual feature-creep!).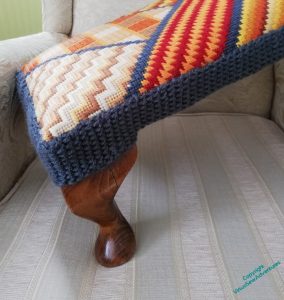 In the end, we picked a Tunisian Crochet stitch, and my Mam solemnly crocheted the necessary metre and a half of border, ten stitches wide, and then attached it.
No canvas showing now, and the knitting wool is such a perfect match you could be forgiven for thinking that we'd been intending this from the start!