Oak Leaf Wreath Testing
I mentioned that I had more experiments to perform on the leaves, and several people hastened to tell me that I should be sure to Test To Destruction. They are right, of course, and having plenty of samples in the pack that Caroline Hack sent me to play with, I was able to do just that.
One of them, I pulled and twisted, trying to snap the plastic. That turned out to be much harder than I had expected it to be, considering how flimsy it felt when I was nervously working needlelace over the leaf shapes.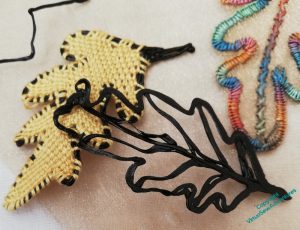 Then I fished out the heat gun that I still have left over from some experiments with paper crafting, covered a drinking glass with a bit of greaseproof paper, and tried to soften the plastic so it would match the curve of the glass. The plastic certainly moved, but not in a very controlled fashion, so I tried again, this time using one of my needlelace experiments. It was still an undercontrolled shift, but it did produce the sort of twisted look of a drying leaf. I tried hard to photograph it so that the curves really showed!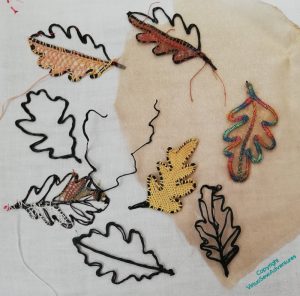 I worked a series of experimental needlelace sections in some of the other pieces. Knotted stitches in slubby linen (really don't do this – friction becomes a real problem!), cloth stitch in silk (the yellow that in due course was melted and twisted) and a variety of others.
I think, in the end, the difficulty of covering the borders, and the slippy plastic which makes it hard to keep the threads in place, mean that this won't be the best way to do the oak leaf wreath. I may still have thoughts about this as I begin to plan, and in particular, I need first of all to work out how big my oak leaves need to be in order to be in proportion with the mirror.
You can now watch Episode 67 of SlowTV Stitchery, which is entirely concerned with my battles with Swirl Stitch!