More Upcycling – a little jacket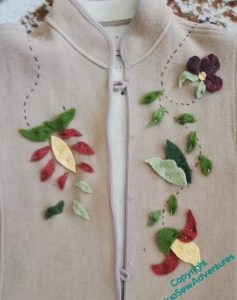 This little edge-to-edge woollen jacket was inherited from a great aunt. She was much smaller than me (I'm not tall, but my great aunts were all tiny!) so, among other things, she'd turned up the sleeves to create cuffs, which has resulted in rather unattractive, and potential life-limiting (for the garment) wear patterns. Naturally, I'm not in favour of that. Nor do I especially cherish the look of me in unadorned beige, especially since the arrival of my "corona wings", which otherwise I rather like. So the jacket is going to be jazzed up.
In fact, it probably won't know what's hit it, by the time I've finished!
I am returning to the motifs from Grandmama's tablecloth, which I also used on the Coat of Many Colours and the Jacobean Firescreen, so at least some of what you see over the next few posts will be familiar, but whereas the design for the Coat of Many Colours stretched across the skirt of the coat, the design here trails over the shoulders and down the arms.
And whereas the design for the Coat of Many Flowers was planned in advance, with some care, the design for this one was put together in a series of adventures. First, my mother put the jacket on and I drew trailing stems around and over the jacket. Then I tacked them in with a single strand of Appletons Crewel Wool (then I won't need to take them out!) and pinned cut out paper patterns of the motifs in their place.
Then the paper cutouts were replaced with felt cut outs. You can see from this picture of the back that I missed out some necessary stems here..
I wonder whether it's luxuriant enough?
Meanwhile, in other news – Episode 64 of Slow TV Stitchery is now live, in which we discuss Impressionism in stitches and an Announcement is made..