More Stash Busting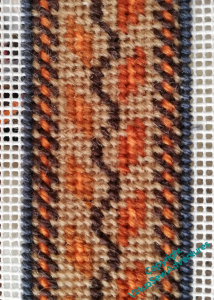 In the clearest demonstration yet – at least in embroidery terms – that we are in the End Times, I have embarked on some stash busting counted tent stitch.
I rather enjoyed working on the Stash Busting Footstool, and there was a bit of canvas left on the frame when I'd made it, so I reattached the cut end, rifled through what was left of the tapestry wool, and started to play.
Since I don't know how far my wools will stretch, my sole "design" is to take the idea of making a fabric from ornamental ribbons, alternating broad and narrow.
This vine pattern is based on one in "Needlepoint" from Ebury Press.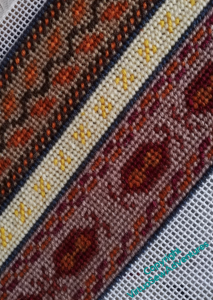 The next two "ribbons" I made up as I went along – one narrow, light pattern in two shades of yellow, and another broad one, this one distinctly made-up-as-I-went-along. It was very vaguely inspired by another in "Needlepoint", which in turn claimed to be inspired by a Persian pattern. I have my doubts, but in any case, even when I tried to have a sensible pattern of spacing, I ended up with something of a mishmash.
You may have noticed that the "neutral" in the two broad stripes is not the same colour. I'm going to try to alternate these as backgrounds, unless and until I start to need to blend them together to fill the space.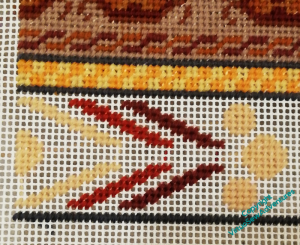 The next, narrow, band, is a chequerboard.
I like the stripe part of this next pattern, but after working the baubles, I looked again and decided that they weren't quite working. I was trying for a mix of shapes, a bit of variety, and something to change the spacing of the stripes, but not this!
And while you assimilate the shock of me happily doing counted work – Episode 44 of Slow TV Stitchery is now live. In which we discuss the EES as an early crowd-funded organisation, my ambitions to hold a Dreams of Amarna exhibition, and whether "medieval muddle" is an idea purely from 19th Century northern Europe.