More progress on the tablecloth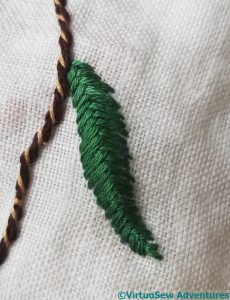 Each time I decide how to do a particular element, I do all four appearances. I decided on this very early on, because I knew that working a whole side and then copying it three times would drive me absolutely mad!
Raised fishbone stitch creates a nicely embossed effect, providing a good contrast with all the open stitches I've used. It requires a bit of concentration – this is a little raggier than I'd like – but at this point, I want the wretched tablecloth done, so I'm likely to just move on..
I've been looking at other embroidery styles of late – one can't be wallowing in gold all the time, and one of these days I will be able to think of doing something else – and I've been reminded of just how effective groupings of blanket stitch or buttonhole stitch can be. This is the simplest variant I could think of, but I must remember that simple stitches like blanket stitch offer endless possibilities for variation..
One of the attractions of surface embroidery is the possibility for stitches to evolve themselves into being. I'm calling this one "Feathered Zig Zag Chain Stitch". I can't believe I've invented it, but neither can I remember having seen it before, and I think it works rather well. It certainly flowed familiarly off the needle, like an old friend.
The photograph has reminded me, however, that I need to finish whipping my chain stitch stems!
And new in SlowTVStitchery, Episode Thirteen is now up. In which, at long last, a Decision is made….