State of the Tablecloth – 2
I like Basque Stitch – it has a family resemblance to blanket stitch, and recalls chain stitch as well, so it's a good stitch to pull together a piece that includes both.
The inner petals are closed herringbone stitch. I'm determined to nail this stitch one of these days, but this is not that day. It was a constant battle, and it looks a bit raggy.
Although not raggy enough for me to unpick it!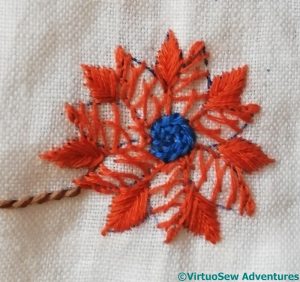 I unpicked and tried several variations for this one, and I'm still not sure of it.
The centre is a spiral of stem stitch, and the blue is the one from the tulip in the previous post.
The outer petals are in fishbone stitch, and the inner petals are in another blanket stitch variation. I think I may have got this one from one of Edith John's books, and I'm pretty sure it will look much better once the transfer has been washed off. If not, I may have to re-stitch yet again!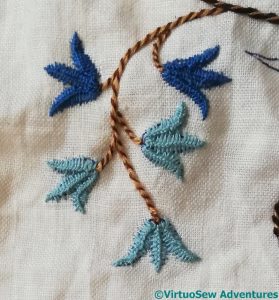 I think I suggested these might be harebells, or something similar. They are worked in Vandyke stitch, and although they do create a strong effect, it may be a bit busy.
Whatever else it is, this will be a wildly colourful tablecloth!