Another of Grandmama's Experiments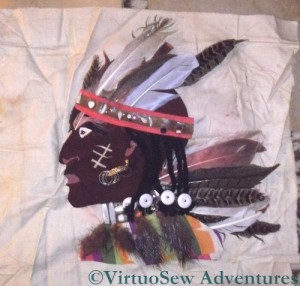 Grandmama joined the Women's Institute at some point, and went on many of their craft courses of one sort or another. When I found this collage, I also found one of her notebooks with notes from some of those courses, which I hope will enlighten me about how she approached them. When I get around to transcribing them, that is. It is one of those tasks that always gets put off to a more convenient time!
I'm especially curious about this one. I'd never seen it before – a collage of an Indian's Head. A fictional one, I imagine. In fact the question I find myself asking about this is "Why?". Most of it is glued rather than stitched, which I rather imagine would have gone somewhat against the grain with Grandmama. It also has the slightly slapdash feel that my own work has when I'm feeling out-of-sorts about being forced to do something I dislike or consider uninteresting. Maybe the notes will tell me more.
However, I was highly entertained when I realised that the ornaments on the end of the Indian's braids were trouser buttons from my Grandfather's Tropical uniform – it's a good thing he'd retired by then!