Glittering Nightcap – Making Changes
Although I have already commented that I usually regard Online University pieces as tutorial pieces to be worked according to the instructions, I've decided to make a few changes on the brim. This will mean I will be able to compare directly some of the working methods I've learned about since I began on the Nightcap, so I should learn even more!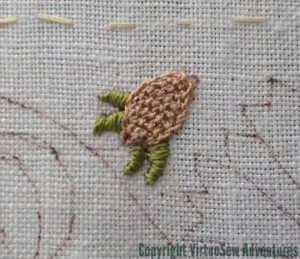 The first change was to use Bordered Corded Brussels Stitch for much of the detached buttonhole stitch. I can't say that I am finding the Gilt Sylke Twist markedly easier to use now than it was when I started. However, I do find that the Bordered Corded Brussels stitch is easier than working Detached Buttonhole with return into a border of chain stitch, and less prone to breakages of the gilt wire.
In the case of the strawberries I have also chosen to use satin stitch in place of trellis stitch for the sepals. I've padded the satin stitch, to give it a little more life.
There are changes to the Pansy too. Again, the petals are worked in Bordered Corded Brussels stitch, but the curled edges I worked in satin stitch. The outer edge is padded with a line of back stitch to lift it a little. Possibly not enough, so when I work the second pansy I might choose to pad the edge with chain stitch, or whipped back stitch to see whether it makes a difference.
The straw-coloured sepals are unpadded satin stitch this time, rather than the trellis stitch suggested in the instructions. It's much less fiddly to do, but I wonder whether these changes rather undermine the style, looking a little too modern, too simple, too plain.
And if there is one thing I have learnt from the exhibition "In Fine Style", and from its fabulous book, it is that the Tudors believed very much that more is more – more texture, more glitter, more colour, more everything.