Tag:
silk threads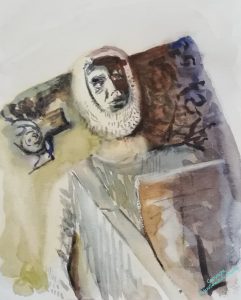 One of the things you need to know before you dive enthusiastically into family history is that the horrors are just as likely as the heroes. In our case, a land dispute at the turn of the 19th Century saw some ancestors of my maternal great grandmother getting their family tree professionally investigated and drawn up. They didn't get the land (although what the Professor of Music at Cambridge wanted with land in London escapes me), but "The SheepStealers", as we call them, have been updated ever since. As far as I can tell, we've got ancestors on both sides of every civil dispute since the Norman Conquest, so we can pick our favourite distant ancestor depending on our own historical hang-ups.
My mother, in particular, was completely thrilled to find that William Marshall, "the Greatest Knight" was on there. We went to his burial place in London, (pre-Covid) and I painted this watercolour of his effigy when I got home.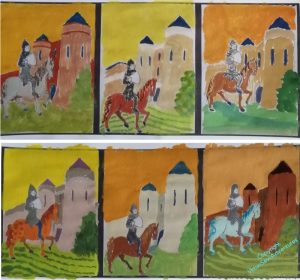 Fast forward some years, and Tanya Bentham of Opus Anglicanum blog, has published a book about Opus Anglicanum, which has got me thinking I would like to do some. I will probably do one of Tanya's little heads to get the hang of the idea, but, being me, I decided that I would, as Ophelia (didn't quite) put it, "wear my Opus with a difference".
So I've settled on Umpteen-Times-Great-Grandfather William as my subject, on a visit to the Château de Tancarville, where he had his knightly training as a teenager. As you can see, I've got out my gouache to try to pick the right balance of colours, bearing in mind that the sky is going to be underside couched in gold. I can't decide whether to make his horse a chestnut, a roan, or a grey – although given it's opus, I get the impression I could make the horse blue and get nothing but praise!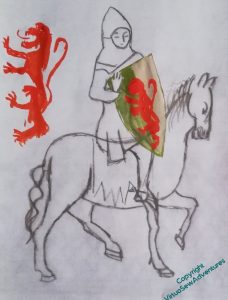 One of the changes I'm going to make to the knight I'm adapting for William, is that I'm going to make his shield a bit bigger, so that his correct coat of arms (this was from memory so I need to look him up) is clear and it is obvious that I'm not doing just any knight, but specifically William. I think I should do something different with his hand, as well as remembering to give his horse reins and a saddlecloth.
So, I need to get to grips with William's real coat of arms, settle on my colour scheme and order my silks.
My last post about the Glittering Gentleman's Nightcap was in September, but I'm afraid it has not made much progress over the winter. This is because I only work on it when I have good natural light, and that means sitting in a bay window, which can be very cold indeed!
I managed to get one of the Tudor Roses done and then there was a long, chilly hiatus. Each petal is worked in Gilt Sylke Twist, outlined in reverse chain stitch and filled in with detached buttonhole with return. I think that is the same as "corded Brussels Stitch" in needle-lace, or if it is not, I have yet to work out the difference. The sepals are worked, again in detached buttonhole with return, using straw coloured silk.
As I mentioned in my previous post, Month Four consisted of the Tudor Roses and a plethora of leaves in a variety of combinations of colours. It was not uncommon for embroiderers of the period to blend colours in the needle, and Tricia suggested that we might choose to do the same. This is not quite as straightforward as one might hope, since of course the Soie Perlee is not intended to be plied and recombined, unlike the stranded cotton I used when I did something similar with Tracy Franklin in Durham.
It produces an interesting effect, and it does allow for a smoother colour change than using the threads in their normal state. What interested me, however, was that without being aware of changing my technique in any way, the coverage of the second leaf was markedly denser than that of the first.
Each leaf took about three-quarters of an hour to work, which tells me that I've some considerable time to go before I can get on to the goldwork or turn over to work the brim – there are about 28 more leaves to work!