Category:
General Embroidery
If you have been watching the videos, you will know how the Angel has been going, but it's sometimes helpful to see things straight-on, which my videoing set up doesn't achieve.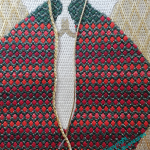 I got to the bottom edge and felt very pleased with myself – only to discover that not only was the top edge not done, but working the pattern in the other direction is slightly trickier than you might expect! It only slowed me down by a week or so, so not too serious… The next decision was about how to edge the angel, which edges, and with what. I've gone for a mixture of threads and cords so far, making different choices depending upon the sort of edge and how emphatic I want it to be.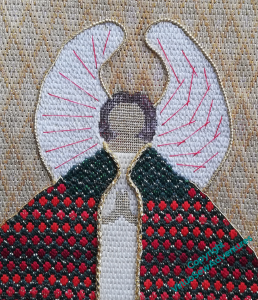 Yes, I know I haven't done the hair yet! I'm still not sure how, and I want all the gold done first, so I know what the hair has to deal with.
At the moment I have tacking stitches in place for the wing patterns, while I stare and try to decide which I want to do.
Any suggestions?
And while we all consider that, I can report that Episode 47 of SlowTV Stitchery is now live, in which we return to the Amarna Family Group to add some details, recollect the working of the Colossus of Akhenaten, and discuss needle choice and other technical aspects of the additional details.
Next page →
← Previous page