Watermill Stitchery – Stones of Verrucola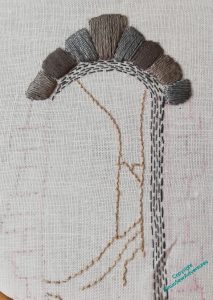 I'm continuing to explore ideas for the course at The Watermill in Posara, and this one is inspired by the first outing of the painting course I went on. Verrucola is a medieval village and fortress not far from Fivizzano, with a deep stream valley, some very impressive buildings – and a delightful trattoria just inside the walls.
I want to explore the different ways an embroiderer might choose to explore the textures of stone that a site like this afford – the living rock of the hillside, cut stone used for building, and the shaped and smoothed stone used for architectural features.
You can see in the first picture that I have just "drawn in" the street beyond the gate with back stitch and used darning stitch to suggest the shadow beneath the arch.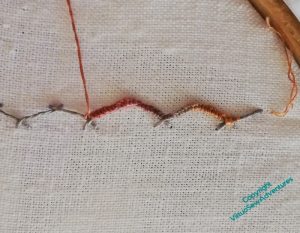 I'm using padded satin stitch for the cut and smoothed stone of the arch, but since I find that an exasperating stitch, I've alternated working on the arch with the tiles which cap the wall which is pierced by the arch.
I found buttonholed herringbone stitch in one of Sharon Boggan's books, but as you can see, my first attempt didn't really produce the effect of the curved roof tiles that are so much part of the scenery in Tuscany. The linen herringbone stitch is too stretched out, and the two strands of stranded cotton just look straggly.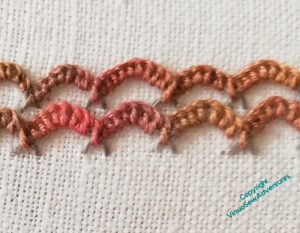 I am going to have to emphasise experimentation in the course, aren't I!
This version is much better – the shorter, higher herringbone stitch, just peering through at the base of the arches, three or even four strands of stranded cotton for the buttonhole stitch, and the stacked stitches create a good recollection of the tiled roofs I saw. I'm pleased with the way the variegation suggests the weathering on the tiles.
You will see that I have added a Page to the site which will make it easier to find and download details of the course if you are interested.
And also, Episode 71 of SlowTV Stitchery is now live, in which I experiment with the shore, and talk of plans for overland travel for Times To Come..