I can't call this a UFO…
… because I never got around to starting it!
I found this, languishing in a box. It's a kit for a Japanese embroidery design, complete with spools of flat silk and a handmade needle (which didn't register with me as it should have done, I admit!)
What I didn't have was the instructions, but I remembered that we bought two kits, one for my mother and one for me, so I asked…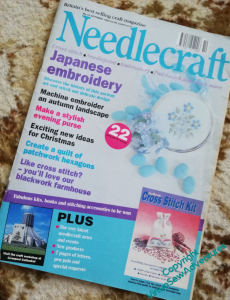 And look what she came up with! As it turned out, her kit was safely packed up, together with the magazine that the instructions were in. So I've photocopied them, so as not to deprive her, and I intend to get along and finish it.
Then I'll only have to decide what to do with it. Perhaps I'll actually source a little box and put it in the lid, as suggested by the magazine! (Yes, I know, me, doing as suggested – the world has turned topsy-turvy!)
Still, onward, ever onward!
The first stage is to put in some padding stitches under the flower petals.
I'm always a bit reluctant to use my Japanese needles – I've found them tricky to thread, and I'm very conscious of their rarity, and don't want to break them – but every time I'm reminded that they are really lovely to use. Although I'll admit to finding them slightly disconcerting, because, being shorter than I'm used to, they balance differently!
Meanwhile, Amarna Family Group continues to make progress: Episode Twenty is now live, and chiefly concerns Nefertiti.