A few last details
I added a few extra details, to sculpt the face a bit more – tiny stitches in silk, broadening and deepening the eye sockets, altering the shape around the nose, adding more stitches attaching the face.
In fact, to make sure the silk was fine enough, I twisted it myself from a spool of Japanese silk bought for the purpose. I think I ended up with three twisted threads from one length.
The gold kid of the headdress now has an upper edge trim as well. That would have been much easier to do if I could have done it before attaching the kid to the head!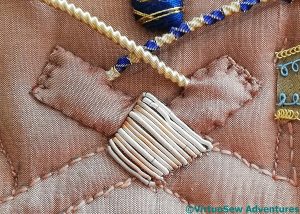 As I was looking over the whole thing, it occurred to me that Akhenaten's hands weren't convincingly grasping his crook and flail. Fixing that wasn't hard in theory – new hands cut from the edge of the silk, padded with padding from the edge of the piece, and attached with more hand-twisted silk thread.
In practice, it took several attempts before I was at all happy with the result, and I could be seen contemplating my own closed fist thoughtfully at various points in the process. Which doesn't always help as much as you might think, when the aim is something slightly different to a realistic representation….!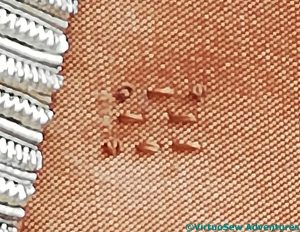 However, I now think he's probably as finished as I can make him. As I wrote to a friend: I may have doubts about detail, but I think Akhenaten is now as good as my current level of skill will allow. I hope someone will take him off my hands before I get good enough to shudder every time I look at him!