More of Akhenaten's Accessories
I feel as though I've spent as much time on Akhenaten's accessories as I did on the silver purl loincloth, and tied myself in as many knots as I did when I was doing his wig!
I do hope he starts to approve of my efforts again soon…
When last seen, I was content with the crook, done in alternating blue and gold wire rope, strung on a former made of fuse wire, but I was expressing doubt about the flail.
The gold purl and silk wrapped purl was too frail, and this version, using gold wire rope, was visually too heavy, and much too springy. So I knew that something else would have to be devised, and racked my brains repeatedly for ideas.
The ideas finally came late one night, and – too drowsy to wake up properly and write notes – I fell asleep hoping I wouldn't have forgotten in the morning.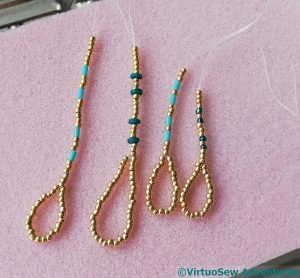 Fortunately, I hadn't!
I'm assured that the word for the parts of a flail that flail is "swipple", which sounds too outrageously appropriate not to make use of.
The various turquoise beads came from a friend on Instagram, who saw my wrestlings with the armlets and offered some treasures from her stash to assist. After several trials, I settled on a combination of gold and coloured beads, and a particular length of loop.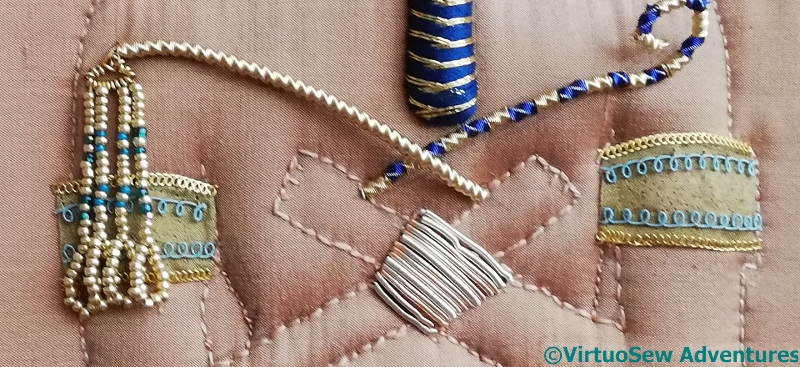 The finished flail has a handle of gold wire rope, a head of gold pearl purl, and four strung bead swipples. In fact, the inner two swipples have different coloured beads to the outer two. This is part of the layering of detail I'm trying to develop with Akhenaten, to help with the impression of rich gorgeousness I want to convey. It might be barely noticeable (although more so in real life), but it will break up what might otherwise look a bit monolithic.
I've taken the same approach with the wristlet, which uses silver rough purl (leftover from the loincloth) in combination with a pale pinkish rough purl. Anything single-coloured was too obvious and argumentative, especially as it's placed right in the centre of his chest, but when I left it out entirely, that looked worse!