Akhenaten's Armlets
You may recall that I had some trouble with the armlets the first time I was working on them. Now, as I've come back to Akhenaten again, I've decided that the gold kid I'd settled on isn't at all right. Off it came, and after some puzzling, I attached the brass mesh instead.
Only to decide that no, that looks dull, doesn't capture the effect I'm after, and even edged with a flattened gold spiral, doesn't stand out enough against the silk.
My next thought was to do some patterned chipwork. I chose a rather gorgeous, very ancient-Egyptian-looking blue, and a sort of diagonal basketweave pattern which is not a million miles removed from some of the patterns I have seen on ancient pieces.
The blue did at least help the silk to show something like true colour, but when I looked at the whole piece, I found the blue too bright, and the pattern altogether too much of a good thing.
I thought that was strange. The alternating directions should have echoed the beard and helped the two sit nicely together, and there is so much personality in the silver purl loincloth that you would have thought nothing could have been too much!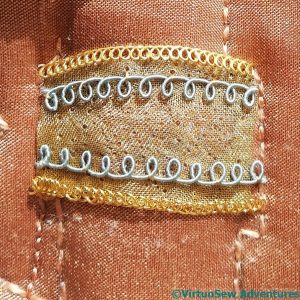 Then I had a thought – the kit for the Stuart Silk Purl Flower contained some bonus silk-wrapped wires and purls, and fortuitously, when slightly overstretched, there was just enough of one of the turquoise ones to do top and bottom on each armlet.
At this point I decided, somewhat tentatively, that maybe I'd got this bit right, or at least right enough to move on.