The Fourth Labourer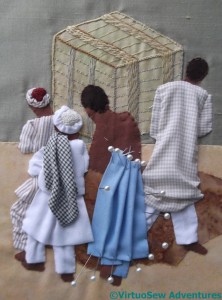 Finally, after all that trouble with the Third Labourer, I moved on to the fourth.
After some playing around with colours, I decided to dye some of the fabrics I'd bought to clothe these fellows (Bahama Blue, if anyone wants to know!). It proved to me that some of the fabrics which I had expected to be cotton weren't, but that doesn't matter in this context. This project is going to be a positive riot of different materials!
You can see that I made considerable use of pins to control the fabric and keep the pleats in something resembling order, holding the fabric to be ironed, and simply leaving it while I thought about the next stage.
The stripy fabric for this fellow's shirt is the same as the stripes on the first one, overdyed with the blue, and the bold blue check was overdyed with a stony beige colour, to try to make it look a little dusty. It barely made any difference, but sometimes "barely" is good enough.
I'm very pleased with the way the folds suggest the raised leg, and the turned in sections of the tunic create some bulk for the shoulders.
And, though I say it myself, I think the folds of the shawl (if that's what it is) are an absolute triumph. They are secured in a few places, but I defy you to find the stitches, even if you zoom in on the picture, and I've avoided crushing any of folds.
The basic figures are now completed, and I'm really rather pleased with how they've turned out, but I do feel as though there may be some details missing.
More staring and thinking required…