Holiday Traycloth – first installment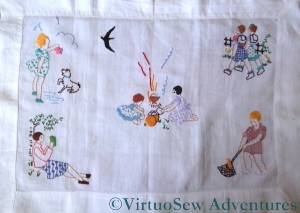 I worked this immediately after the First Voluntary Project, and my goodness, is there a difference between the two! I think I must have talked with Grandmama and looked at some of her embroidery, and it looks as though suddenly the whole idea "clicked".
The motifs are from transfers from another of Grandmama's Needlewoman Magazines (August 1934, if you are interested!), worked on an old piece of linen in stranded cottons. The design was suggested to be a cover for a photograph album, but since my family isn't really photograph-conscious, I felt that such a thing would be superfluous, and finished it as a traycloth instead. We added the seagull to cover a hole in the linen, which was already quite old.
The range of stitches is very limited on this piece – I must have been following the instructions in the magazine – and the whole thing is surprisingly neatly worked. I love the little girl's spotty dress (satin stitch spots!) and windswept stem stitch hair, and the starfish is wonderfully knobbly, with closely packed French knots.
Most of the outlining across the whole piece is in back stitch, and although I didn't count it precisely, I suspect the weave of the linen made that much easier to do than it might have been.
The designs themselves are very reminiscent of the children's books of the period – it's even exactly the right sort of dog, slightly scruffy, but always ready to play!
These walkers have blanket stitch collars and cuffs, and stem stitch hair. His shorts are worked in Jacobean Couching and the spots on her skirt are French knots. The leaves on the bush in the background are detached chain, and the yellow flowers are blanket stitch wheels. Again, the hair is in stem stitch and the socks (like the little girl's shoes) are in satin stitch.
You'll notice that all of these stitches re-occur when I describe the other motifs, too. The designer has made absolutely first-class use of all the stitches.