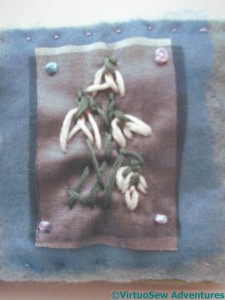 You may recall that last year – or was it the year before?  – I joined in a "Make & Take" at the Rowandean stand in Harrogate. Last time, I bought a little kit and one of Katrina's pages of ideas and brought them home to play with.
Of course, as we all know, the Bringing Home is the easy part… !
The colours are soft and fresh, springlike, so I thought I would start by playing with forms vaguely inspired by spring flowers. The ultimate inspiration here was from snowdrops, made by stitching a fly stitch and a twisted fly stitch on top of one another. It has almost worked, certainly close enough for my purposes. Maybe an embroidering botanist would like to play a bit more.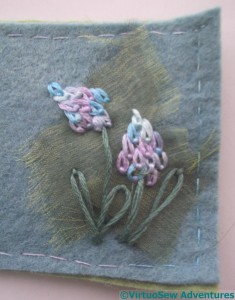 The flowers are stitched on a piece of gauze which is layered over a piece of silk, which in turn lies over apiece of felt. The french knots in the corners held everything together while I tackled the flowers.
The next fragment was vaguely inspired by grape hyacinths, which are among my  favourite spring flowers. Overlapping detached chain stitches worked well, and layering gauze over the felt helped to bring the flowers out from the background.
I may choose to fray the gauze further, but I was struggling with light at this point and decided to see what I thought under different atmospheric conditions!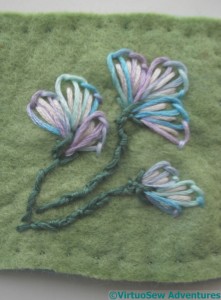 I did mention that I'm no botanist! The ultimate inspiration here were the stripy crocus I see a lot near where I live. They are getting a little old and blowsy, not the trim, upright bolts of colour that first appeared, but nevertheless the ones I've stitched look more like some strange new flora, unknown to either science or art!
I rather enjoyed them, all the same…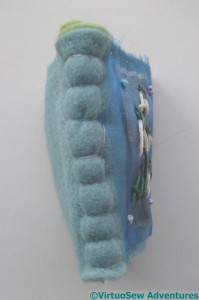 I've turned the resulting pile of felt into a needlebook, rather more illustrated that is usual, and with a dramatic stitched spine. This was a distinct piece of experimentation – I could have done with a milliner's needle, but not having one I improvised with a beading needle, which was very flimsy and flexible, but did the job in the end.
Now I've put it under a heap of books to flatten it gradually without the squashing effect of an iron. And I still have some felt, some thread, and some gauze left over for further experimentation!