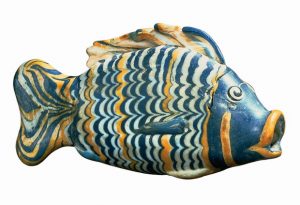 There is a glass vessel which frequently shows up in image searches relating to Amarna, a representation of a Nile tilapia fish. I saw it reconstructed by a modern glassworker in a recent programme about the art of Ancient Egypt presented by the British art critic Alistair Sooke. The glassworker said it was a somewhat unnerving technique to do, and with all his experience, and all his practice, he was never entirely confident of his results until a fish was finished,
That being the case, it seemed to me that as an example of the skill of the artisans of Amarna, the glass fish deserved to be included. I've found a public domain image to act as my source – and to show you what I'm talking about. I'm thinking of padding it slightly and attaching it to one of the background panels as a fish-shaped slip, rather than a rectangular patch, but we will have to wait and see what seems the right thing to do when I've finished.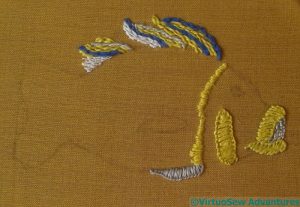 I'm using some rather lovely vintage linen thread, bought at the recent "Sewing For Pleasure", on a fine but sturdy cotton. I wanted something that would not require a backing, but I'm not sure that the fabric will be left to show, so I could have used some plain calico. The thread is wonderful to work with, strong, lustrous, and resilient. Much better than any linen thread I've ever worked with before – they've tended to be stiff, and a little "dead" in feel. This stuff is a delight!
So far, the stitches are blanket stitch, seed stitches, chain, stem, and feather stitch. I'm rather enjoying this!